The Meaning behind DESIGN IT!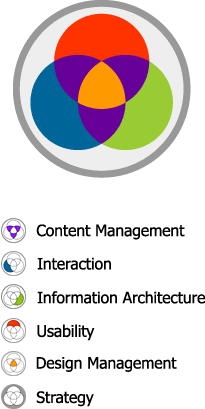 Design: The Planning of Function, Structure, and Beauty
There are two meanings behind the word "design"--an idea and a plan. More accurately, design is the integration of these two meanings and perhaps this word has taken root in Japan as a borrowed foreign word precisely because it conveniently embodies these two concepts in a single word. What differentiates designers from artists is the fact that the element of "plan" poses an added concern for designers. In design, you have a client, a purpose or a goal, and unfortunately, the restrictions of time and resources.
launched in the year 2005 to embark on a mission to bring timely innovation to organizations and enterprises through the integration of design and IT. We at "DESIGN IT" consider hu
The master Roman architect Marcus Vitruvius Pollio, summarized the elements required in architecture to be "structure, function, and beauty." He thus summarized brilliantly the essential elements of design. In the world of design, the design will not be adopted if it does not meet the functional criteria; the design is hard to maintain with an insufficient structure; and people will not appreciate the design if it is not beautiful. We need a plan in order to achieve a design that integrates all three elements, and experts such as designers, engineers, and managers are the people who execute such a plan. And they are all tackling the same problem called design from different standpoints and expertise. Whether it's architecture, design of a machine, graphic design, a business plan, or software design, these are all designs with the same basic challenges.
Design IT: Total Business Design
IT, led by the Internet, has utterly changed the business environment but also provided us with an environment in order to meet these challenges. Everything from corporations, architecture, to media, have been designed, simulated, and managed virtually through IT. What we increasingly need in times like these is an integration of various designs via IT, and to design businesses that have incorporated IT.
For example, designing products and services that succeed in the market is impossible without intimate communication between marketing, sales, service support, and clients. And these are being done today through the medium of the Web. Design, therefore, no longer remains in a closed world that operates independently, but is interdependent, with mutual interaction between design and business.
Today, we are challenged with the question of how designs that incorporate IT contribute to business and also how to design businesses themselves. Design can be also viewed as a strategy of the IT business itself. Thus the term "Design IT" embodies both of these meanings. Furthermore, in this term lies our wish to expand this concept beyond that of business, and to create a people-friendly society in the true sense of the word based on the foundations of design and IT proliferating in every aspect of our lives.
Creation of Design IT!
IT led by the Web which began as an extremely simple, all-purpose technology, is still in its stage of infancy. For IT to achieve its mission within business, we need to bring together the various know-how, technology, and strategy of the new and the old, through design. IT has got to become smarter, more convenient, to be better able to manage information, more aesthetically pleasing, and above all else, easy to use.
To achieve this, we focus on six themes.
"Information Architecture" which edits, organizes, and constructs information.
"Interaction" which builds the relationship between user operations and system response.
"Usability" which improves quality in use of your systems by a comprehensive design process.
"Content Management" which thinks of ways to handle information assets while integrating these approaches.
"Design Management" which thinks of design as a strategy in business and organizations.
"Strategy" which takes all five of the above-mentioned themes and follows case studies and various undertakings of companies and research organizations.
We approach these six themes from the standpoint of application and evaluation of technology (elemental technology), solution, and users, and wish to clarify design IT's current status as well as to carve out its future direction.
On the Design IT! Conference
The Design IT! Conference is a space, an opportunity, and community, for thinking innovatively about design and IT.
Design IT! is not a finished or completed entity, but one that requires different people to make it happen. We hope that everyone involved in design from all perspectives and positions participate and create this conference together.