ISHIKAWA, Yuzuru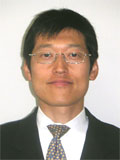 Executive Officer
Relo-X Communications Ltd.
Career
Born in 1966. Mr. Ishikawa received MBA at Keio University.
Mr. Ishikawa worked for an IT consulting firm for 13 years, plotting out group management strategy and consulting engineering before presiding on his current post in August 2004.
Mr. Ishikawa built the IT section of his firm from scratch and went on to lead reviewing its business projects, plotting out and installing information strategy, and innovating its work style.
Related websites
Related Session
[CM-3] Achieving One-Source Multi-use that uses CMS


Dec. 12, 13:30 – 14:30
Trackbacks
TrackBack URL for this entry:
http://www.designit.jp/mt/mt-tb.cgi/1165