JAFFRÉ, Noël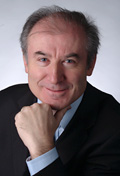 Vice President International, Technical Field Operations,
FatWire SoftWare
Career
In his current role, Noel leads the international teams for pre and post-sales engineering, support, training and professional services. Noel knows Content Server since he has been joining Open Market in 1996, as Sr Pre-sales engineer. Noel worked in a number of different environments across product management, product marketing and international technical management role within Open Market and FatWire.
Prior to joining Open Market Noel worked at Oracle as technical account manager for international Oracle customer. Previously he worked for Digital Equipment Corporation in pre-sales organization and for Thales S.A., formerly known as Thomson-CSF as CAD/CAM 3D mechanical designer. Noel holds a master degree's in computer sciences and a degree in mechanical engineering technology.
Related Session
[Sponsor-3] FatWire CMS New Version CS7 and Existing Site Tools & Introduction of FlexImport2


Dec. 11, 16:00 - 17:00
Trackbacks
TrackBack URL for this entry:
http://www.designit.jp/mt/mt-tb.cgi/1187