KONDOH, Ryuichi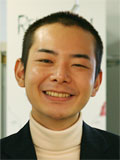 Advanced Solution R&D Center,
Uchida Yoko Co., Ltd.
Career
After joining Uchida Yoko Co. Ltd. as a system design/development engineer, He has been engaging in user interface design, usability assessment, and product development by user-centered design. He is an expert on planning, designing, and developing based on user-centered design. Recent cases include music audiovisual system "andon listening system", video-conference space system, and life-size projection system "FURUSUKE-SAN".
Related websites
Related Session
[S-3] Product Development Using User-Centered Design: A Case Study


Dec. 11, 14:45 – 15:45
Trackbacks
TrackBack URL for this entry:
http://www.designit.jp/mt/mt-tb.cgi/1169