MASHITA, Naoaki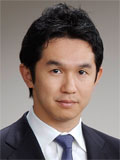 CEO
V-cube Inc.
Career
1977 Born in Tokyo.
1996 Entered Keio University. While in college, founded V-cube Internet and reorganized it as V-cube Inc.
2003 Founded a subsidiary company called V-cube USA Inc. in LA.
2004 With a focus on TV conference systems planned and developed by V-cube, founded V-cube Broad Communication and became CEO.
2006 To fortify visual communication business, V-cube Broad Communications took over V-cube Inc. In the same year, V-cube Broad Communication changed its name to V-cube Inc. Became CEO.
Related websites
Related Session
[Sponsor-11] Web Meets Visual Communication with User Experience


Dec. 12, 16:00 – 17:00
Trackbacks
TrackBack URL for this entry:
http://www.designit.jp/mt/mt-tb.cgi/1171