SASAKI, Takashi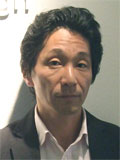 Infield Design Inc.
Career
2005 Joined Infield Design Inc. and took charge in design management consulting.
Before joining Infield Design, Mr. Sasaki had launched a joint venture business in IT field, and was involved in management, planning and administration for six years. Before switching over to the IT field, he was working in marketing communication field in foreign-financed large beverage company and built up wide range of practical experience in global size brand management such as world cup. Before dealing with brand marketing, he had developed various brand identity program such as Matsuda EUNOS' brand graphics and retail store design as a graphic designer in GK Graphics Inc. for six years.
He received an MBA from Kelley School of Business, Indiana University Bloomington and completed graphic design major in Tama Art University.
Related websites
Related Session
[DM-1] Who Manages Design? Multiple Perspectives on Corporate Design management


Dec. 11, 11:30 – 12:30
Trackbacks
TrackBack URL for this entry:
http://www.designit.jp/mt/mt-tb.cgi/1175