SHIMIZU, Makoto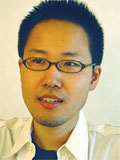 ECM Program manager,
Amway Japan Ltd.
Career
Mr. Shimizu is an ECM program manager at Amway Japan Ltd., and leads all the effort to increase efficiency and effectiveness of Marketing Communications using ECM (Enterprise Content Management) systems and methodologies.
As a pioneer and evangelist of information architecture and content management, he has 13 years of experience designing and building Web and software with a strong focus on balancing business, technology and user experience. Before joining Amway, he was an information architect at global e-business consulting firms such as Scient, Sapient and Razorfish and helped creators and developers adapt to new technologies and methodologies at the same time providing services for leading companies.
In 2004, he made a major jump from consultancies to business execution after realizing that bottleneck often lives within an organization. As an IT director at Web Crew, Inc. he helped the company grow and go public by optimizing processes of Website launch and maintenance using tools like Wiki, Blog, Bug Tracking System, XML framework, Project Management, and ROI.
Currently he is managing ECM program at Amway Japan. While the focus of global HQ is on process standardization and the launch of global asset repository, he focuses on the automation of content delivery to Websites and print media in order to facilitate content reuse and repurpose. Deployed solutions include document management, digital asset management, color management, PDF/X, digital proofing, product information database, WCM and dynamic XML publishing.
He is known for his speeches and articles on CMS and IA. He regularly writes articles for MdN Web STRATEGY, and has spoken at ASISUTO ITQ Seminar 05, Momentum 06 (EMC Documentum User Conference), PAGE 2007, Microsoft ECM Conference 2007, Adobe MAX Japan 2007, JAGAT, etc.
Books
"Web STRATEGY vol.8 - Practical CMS guide for installing and managing" (in Japanese)

Publisher:

MDN Corporation

2007/2/18~

"Web STRATEGY vol.1-7 Theory for practical information architect" (in Japanese)

Publisher:

MDN Corporation

2005/10/18-2006/12/18
Related Session
[CM-5] WCM vs. EMC: What Do We Really Need to Manage?


Dec. 12, 14:45 - 15:45
Trackbacks
TrackBack URL for this entry:
http://www.designit.jp/mt/mt-tb.cgi/1176