SHINOHARA, Toshikazu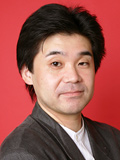 CEO,
Sociomedia Inc.; DESIGN IT! Sponsor
Career
Mr. Shinohara was born in 1964. He established Sociomedia Inc. in 2001 and has been its CEO since. He is an information design consultant and practices information design, information architecture, usability and accessibility, human/user-centered design himself. He has been in charge of standardizing skills for usability and techniques for human/user-centered design, as well as programs for accreditation of specialists, in various industry groups (Human Centered Design Organization, Union of Japanese Scientists and Engineers, Japan Business Machine and Information System Industry Association). Since 1993, he has been an active consultant for building websites and intranet systems. At the same time, he has conducted investigations, research, translation and writing about information technology and information design. In addition, he has worked with staff of Sociomedia to introduce books and case studies concerning the themes of "DESIGN IT!"
Mr. Shinohara is currently a part-time lecturer in the Visual Communication Design, College of Art and Design, at Musashino Art University, and the Ubiquitous and Universal Program, Computer and Information Sciences, at the Graduate School of Engineering, Tokyo University of Agriculture and Technology. He is also an executive board member of Human Centered Design Organization, an advisor for Union of Japanese Scientists and Engineers (Society for Software Quality Control).
Related Session
[Opening-1] Grand Opening: Highlights of DESING IT! Conference 2007


Dec. 11, 10:00 - 10:15

[Panel Discussion-1] Managing Content and User Interface: From the Perspective of Usability and Design Management


Dec. 11, 16:15 - 18:30

[Opening-2] Opening: New Axis of DESIGN IT! Conference 2007


Dec. 12, 10:00 - 10:15

[Panel Discussion-2] Managing Content and User Interface: From the Perspective of Usability and Design Management


Dec. 12, 16:15 - 18:00
Trackbacks
TrackBack URL for this entry:
http://www.designit.jp/mt/mt-tb.cgi/1177